Guilden Sutton Green Space
The Pond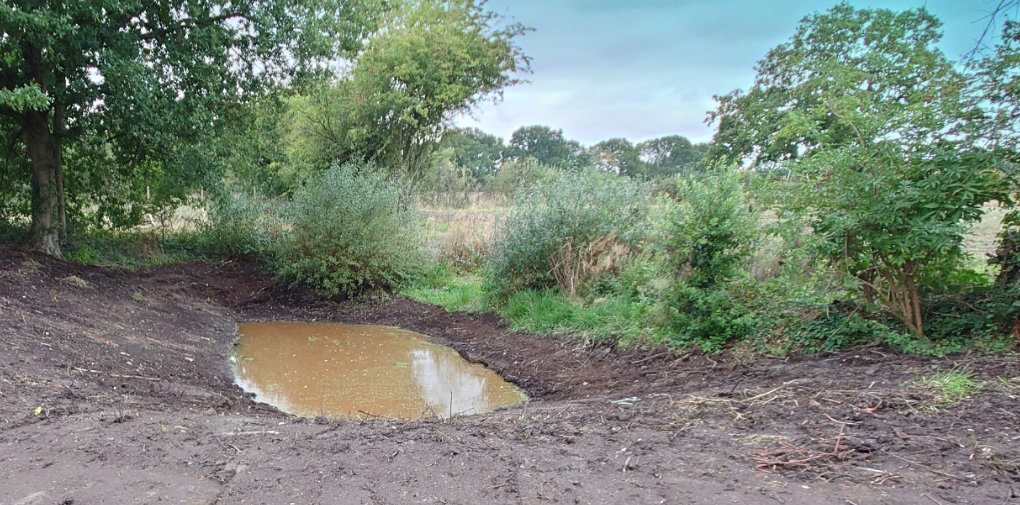 What's happing to it?
The pond, at the far side of Hooks Wood is being restored to support and encourage wildlife. It has been enlarged, deepened and the surrounding vegetation cleared to allow light in from the south and west. After this, the pond will be left to its own devices and we will see wildlife soon start to flourish.

---
Progress so far
February 2021 - The Hooks Field purchased
March 2021 - Field prepared for tree planting. Trees planted (4,800)
April 2021 - Dry hedging to protect the pond and eventually the tree areas
May/June ...... Mulching using wood chippings to prevent weed and grass from overcoming the trees and to keep the ground moist.
17 July 2021 - Hooks Wood opened
October 2021 - Pond area cleared
Sun 27 November 2021 - additional tree planting
2022
fencing along the approach track
additional tree planting and mulching
weed removal
pond maintenance
leave for the trees to develop (8 years)
2023
various maintence tasks including clearing ditches
removing tree guards
cutting grass paths
pond maintenance
leave the trees to develop (7 years)
Who are Guilden Sutton Green Space?
---